Zacisa: eShop Developer Interview
[Wiitalia] Dear ZeNfA Productions, first of all, I'd like to thank you for having accepted the interview with Wiitalia.it: It is a pleasure for us to talk with an active part of the videogame development landscape, and it's pretty obvious that the recent opening of console gaming toward the indie scene played an important role in shortening the gap between us (as consumers) and you (as developers), in many ways. However, before entering the matter, please introduce you/your team/your company.
[Developer] Hello! Thanks you for this interview opportunity. My name is Greg Wiggleton and I am the sole member of ZeNfA Productions. I have been creating video games as a hobby from Georgia, United States.
[W] Which is the game you developed/are developing for the Nintendo eshop? Could you describe it a little bit?
[D] My first Wii U game is ZaciSa: Defense of the Crayon Dimension! This is a Tower Defense / Strategy game that focuses on the Wii U Gamepad set up of using the Touch Screen to set up your defense and manage them. The game is set in a crayon style that was hand drawn to give it its unique look.
[W] When did you started working on it? Was the decision to port it to/develop it for the Nintendo eshop there from the beginning, or something happened during the development phase, pushing you toward Nintendo?
[D] Work started on this game in early 2013 soon after Nintendo announced their Nintendo Web Framework platform development for the Nintendo Wii U. I worked on a very early prototype of this game, and worked on it for 2 years till release.
[W] How was your first encounter with Nintendo about your game? Did you pitch it to them without prior talk and evaluation, or did you have the chance to discuss about it to them before submitting it?
[D] After the Nintendo Web Framework was announced, I soon signed up for their Wii U Developer program. After a few months, I was fully approved and licensed as a Nintendo Wii U Developer. I then worked on my early ZaciSa prototype to turn it into a full game. Nintendo has no approval system, so I was given full freedom on how to create and design the game.
[W] What is your general sensation about Nintendo and the indie scene, based on your personal experience? Was your journey through their approval process globally positive or not?
[D] My experience with Nintendo has been a very positive one. Nintendo of Europe worked with me a few weeks before release to promote my game on release date. This resulted in the game doing very well so far in Europe. So I have been very happy as an indie with Nintendo.
[W] Which is the best thing/change Nintendo did in the recent past in terms of opening its developing environment to indie developers? Was it a technical decision (something like adapting/opening HTML5 or Unity "languages" to their consoles) or a policy one (something like let the developers free to decide their pricing/deal structure and so on)?
[D] I would say the ease of getting into the indie scene as a Nintendo developer is the biggest change that Nintendo did. Having never created a video game before, being able to create video games on a console was a great opportunity for me. Nintendo also allowing for games to be created in HTML5 was also beneficial to me since I am a web developer as my main job. So this was perfect opportunity for me.
[W] How was your personal experience in terms of reception (critic, buzz and sales) with the eshop so far? There is this concept in the business that only Nintendo games sell on Nintendo consoles: is it true, in your opinion, also for the indie scene?
[D] My experience with critics has been very good so far. Most of the reviews have been positive with reviewers liking the game. User experience has also been excellent, so I am very happy with how the game has been doing with users. Sales for the game have been beyond excellent as well. Combined with the North American version, sales have been beyond what I could have ever expected. I would say that it is half true for the indie scene. Indies can and do very well on the eShop. From my experience and those that I talked to, this is very much true. However, I have found that as a small indie developer, it can sometimes be hard to stand out among the big Nintendo games as well as all the big Indie developers. So if you are an unknown indie, it can be very tough to get people to notice your game. Of course, I am someone who made a successful indie game on the Wii U without prior experience, so if you work hard you can help get your game out there. I have developed a very local following for ZaciSa with players that have become addicted to the game and play is constantly.
[W] Did Nintendo actively supported the promotion of your game? Maybe even just with a good management of the Nintendo eshop front page, if not with a proper indie initiative? We have recently seen Bundles/Nindies@home demos and other initiatives keen to promote the eshop dedicated product.
[D] Nintendo has promoted my game on multiple occasions. For the recent European launch, the game was given a special front page spot for its launch week sale. This promotion helped out greatly. For North American version has seen a few smaller spotlights as well, such as appearing as the icon for the Demos, Sales and other various placements. The North American version is also listed under the Exclusive eShop Category, which only has around 25 other game listed. So I am very honoured to be listed there.
[W] What do you think about the recent deal for an officially licensed Shovel Knight amiibo? From a "PR" perspective, it was a huge announcement. Are you interested is something similar, or do you see it as a positive thing in any case for the "Nindie" scene?
[D] I see it as a very positive thing for the Nindie scene. I thought it was very awesome to see an indie get their very own amiibo. If I ever release a game with a strong liked character, I may consider trying to get an amiibo made for it.
[W] I'd say that it's safe to assume that the size of your developing team is way smaller than a "normal" group of developers usually working on a videogame for one of the established companies out there. Which is, in your opinion, the main difference between your workflow and the practice inside one of the blockbuster companies out there? Is it the creative freedom?
[D] That's correct. I am doing all of this as a side hobby to my main current job. So I spend most of my free time to develop my games. This does have its freedom, however it can also be limiting in its own way. For example, as I mentioned, I built this game in my free time, so I do not always have the time to make games and this can take a lot longer. Because I do all of this in my free time, my costs are of course very small, so reaching profit for my game was easier to accomplish.
[W] Is there any new game you'd like to hint at for our audience? Are you working on a new eshop project?
[D] I am currently working on 2 new games for the Wii U. Both are well into development and should be launching sometime in 2016. One of them is essentially a sequel for ZaciSa that will be launched later on next year. I am planning to greatly evolve the game to be much bigger. My other game is still a secret that I plan to launch early on in 2016. This secret game is a Puzzle game with the ability to create and share your own levels online. Both games are my attempt to create bigger games.
[W] Are you excited about the incoming "NX" announcement? Will it be a console you'll be looking at for your games?
[D] I am very excited. I am hoping to eventually get approved as a NX developer once more information becomes available. If the NX has Nintendo Web Framework, I will immediately sign up as a NX developer.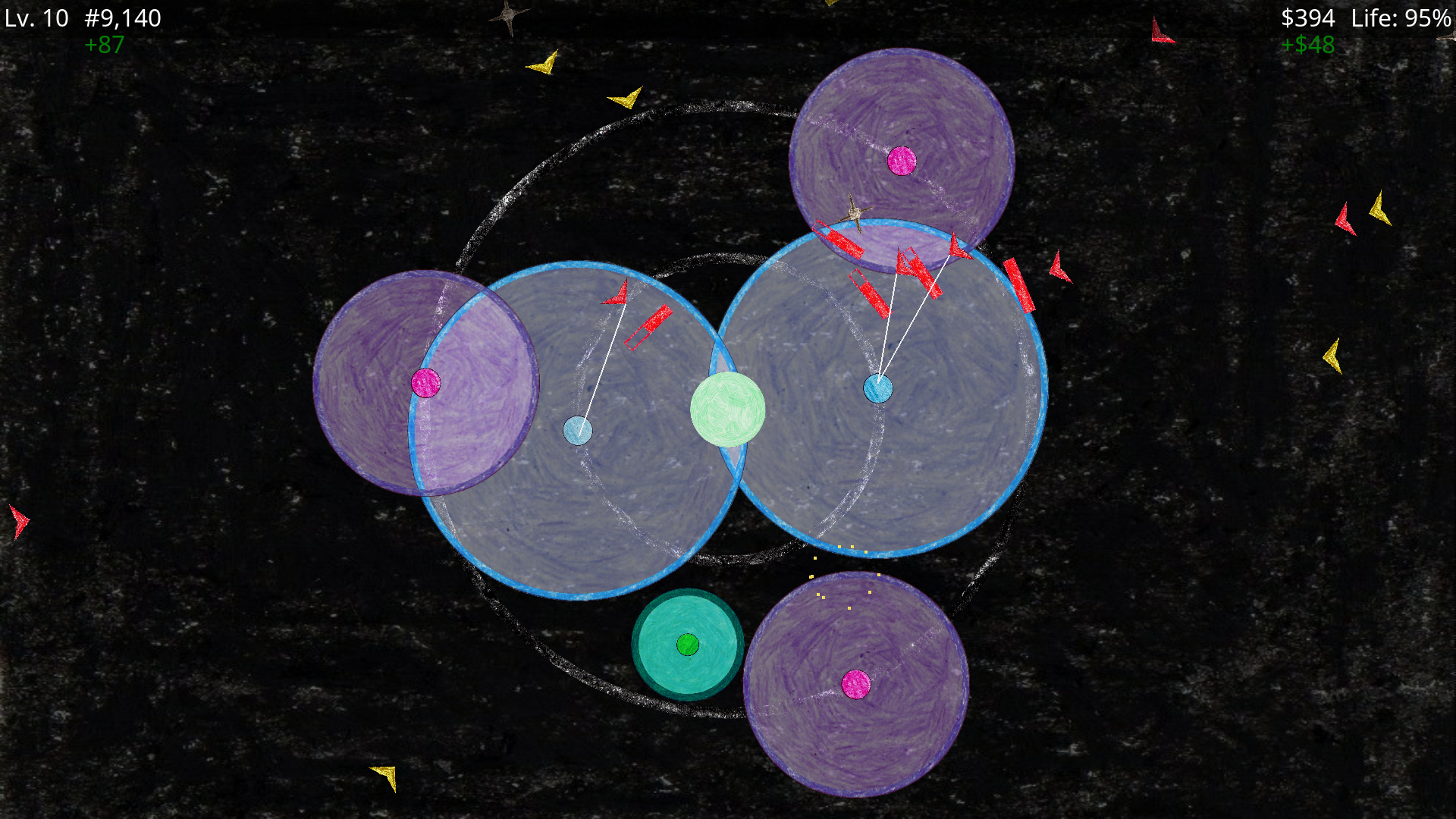 [W] Any particular final message for our fans?
[D] Thank you for the interview. I am hoping Nintendo fans will look forward to what I have in store for them in 2016 and beyond. ZaciSa: Defense of the Crayon Dimension will also be receiving free DLC later on late this year that will introduce several new things, such as new maps, enemies and a new player controlled weapon. This free DLC content is themed as the Local Multiplayer Update that will introduce an enhanced focus on local multiplayer and increase the total number of players to 9. I have a lot of great ideas for future games from ZeNfA Productions, so I hope people will look forward to it.